Facebook doesn't allow apps to access information about members of a group, so when you stream directly to a Facebook group, LiveReacting is not able to see the comments and process them to display the results of the poll. trivia game, etc.
However, there is a workaround!
If you want to stream directly your Trivia Game, polls, or other interactive elements directly to a group, the users who wish to comment need to allow LiveReacting access their name and picture.
It's completely secure for your audience. They grant access only to their name and profile picture, which is available publicly anyway.
Once they've granted permission, all future comments will show their information. We've created a page to get their permission. Follow these steps:
How to see who commented?
1. Inform your potential participants of the situation (Make a disclaimer right inside of your stream, or in the description). If they would like to comment on your stream, they need to grant LiveReacting permission to access their name and picture.
Important: If user doesn't grant access, we can't take into account their answers and process them.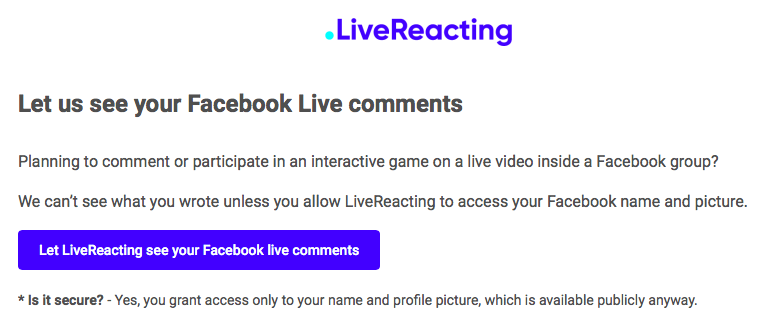 3. If they grant access, all future comments will be visible to LiveReacting, and we'll be able to process the data.
Does this apply to FB Reactions?
The same restriction applies to reactions. Until your viewer grants permission, their reactions won't show up in LiveReacting.