Do you want to skyrocket your engagement? Then Live Poll is the right thing to start. We already have a bunch of easy-customizable templates, where you can edit backgrounds, images, videos, colors, fonts and get a live poll on your Facebook page in a few minutes. In this guide, we want to share with you how to let your Poll go live within those promised minutes, and not hours! Ready? Follow the next steps:
Step 1
Prepare the graphics that suit your project. In our case, it's a poll for the students of English school. When it comes to using graphics, avoid using looping videos; static, animated, or looping images as it violates the new Facebook policy and can be removed. We recommend to use consistent videos, but if you add only images, make sure to add a countdown to it. This way, you are making sure that your Poll isn't going to be removed by Facebook.
Step 2
In the top right, click "New Layer" and choose the type of Poll you prefer.
1) Comments Poll works in the following way: users leave comments below the Poll, and LiveReacting automatically calculate the results in real-time.
2) FB Reactions Poll (available only on FB) is slightly different: users vote using FB reactions and the results of the Poll are shown in real-time.
In this case, we chose the first option – Comments.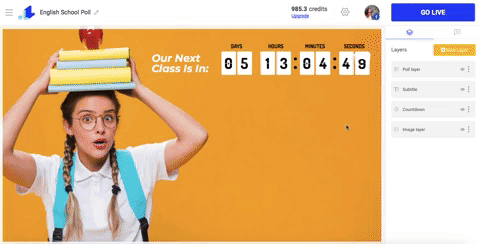 Step 3
In the right bar, you can type the question you want to ask, and suggest possible answers (up to 6 options).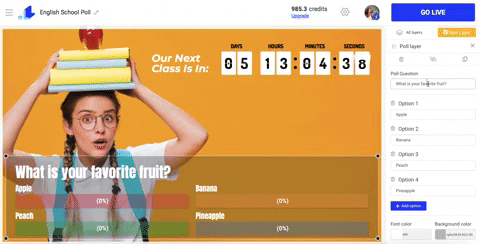 Step 4
You can edit the background color and opacity, change the font, and adjust it in any way you want.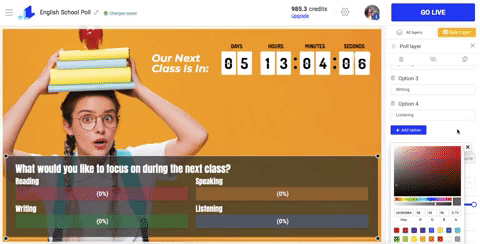 Step 5
If you want your question to stand out more, remove the question from the Poll settings, click "New Layer" in the top right, choose "Text" and type in your question in the field. You can also customize the text in any way you want.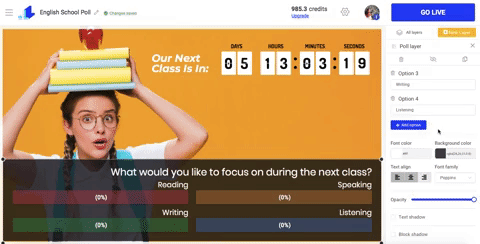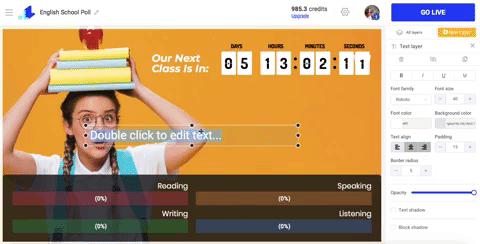 Step 6
Now, our Poll is all set to go live. If yours as well, then click "Go Live", fill out the title, come up with the description to the Poll, choose the amount of time you want your Poll to be live and click "Save". Next, click "Go Live" again in the top right, and press "Yes, Go Live". Now your Poll is live, and you can engage with your users and collect valuable information in real-time!